We have been working on and completing commercial pipe repair projects in Lithia, FL for over a decade.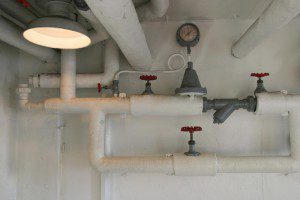 Although you would like to think that your building's plumbing system is infallible, there will likely come a time when one of your pipes breaks and you need to fix it right away. When this happens, you can trust our team of plumbing professionals at A Step Above Plumbing Inc. to handle the commercial pipe repair process with excellence.
We realize that while some commercial pipe repair jobs require emergency attention, others give you a fair warning before they absolutely need to be fixed. For this reason, we strongly encourage you to reach out to us if:
Rusty or discolored water comes out of your faucets.
You notice that there is reduced water pressure throughout your building.
There is sediment in your water.
Your pipes frequently leak or break.
When we come to fix your pipes, we will fully assess the situation before we get to work and determine if you should move forward with the repair process or if it would be in your best interests to simply replace the broken pipe. You can trust our opinion because we are committed to complete customer satisfaction and because we have been working on commercial pipe repair projects in Lithia, Florida for over a decade.
To schedule a time for us to come and look at a malfunctioning pipe in your building, contact us at A Step Above Plumbing Inc. today. We are confident that you will be pleased with the quality of our services, our pricing, and our workmanship.
---
At A Step Above Plumbing Inc., we offer commercial pipe repair services in Lake Wales, Winter Haven, Riverview, Tampa, Brandon, Fish Hawk, Lakeland, Lithia, and Plant City, Florida and throughout Central Florida, as well as all other areas of Polk County and Hillsborough County.