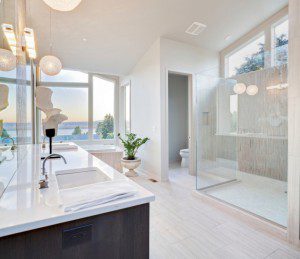 If you are thinking of attempting a bathroom remodel yourself, you will definitely want to consider the advantages of hiring our professional plumbing contractors to help you with this job. Here is a list of things that our plumbing contractors can help you with in your bathroom remodel:
1. Wall Placement– Building codes require certain clearances around sinks and toilets.  Our plumbing contractors have knowledge of these codes and can therefore help you appropriately plan where your walls can be placed.
2. Plumbing Drain Lines– The type of flooring that you want in your remodeled bathroom determines if your walls are put up first and then the plumbing drain lines are installed, or vice versa.  Our plumbing contractors know the correct order and can install your plumbing drain lines.
3. Installation of the Bathtub and/or Shower– Above-grade vent pipes and plumbing drain lines will go in just prior to putting in the bathtub and/or shower.  Our plumbing contractors can perform these installations quickly and without any errors.
4. Installation of the Toilet and Sink(s)- This can be tricky to do because the flooring should already be installed, and you will want to make sure that it does not get damaged. Our plumbing contractors are experienced in carefully installing sinks and toilets without any problems.
Do-it-yourself bathroom remodels are already a challenge by themselves. At A Step Above Plumbing, we would love to send out our professional plumbing contractors to make your bathroom remodel go quicker and smoother. We are located in Lithia, Florida and are ready to help you with your project today.