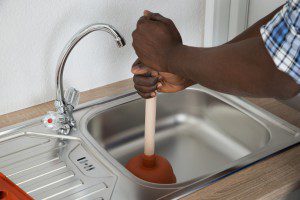 What do you do when your drain is clogged? Do you contact the professionals to come out and fix your clogged drain, or do you handle it yourself? Instead of reaching for the phonebook, try your hand at fixing your drain issues on your own first. Often, you can unclog your drain on your own.
Plunge It. Plungers aren't just for toilets. They are also for clogged drains. Take out your plunger (a clean one, of course) and go to town on your clogged drain. Plunge it as fast and hard as you can for approximately 30 seconds. This should remove the clog so you can start using the sink again.
Check the P-Trap. There is a good chance that you have a clogged P-trap, which is why you have a clogged drain. Take your P-trap apart, clean it out, and put it back together. Then, your sink should be free and clear once again.
Run a Snake Through the Line. If you have some handyman skills, consider using them on your clogged drain by running a snake through the line. This can push out the source of the clog. If you are able to do this, you can avoid calling out a plumber. Of course, if you don't know how to use a snake or if you don't have the equipment necessary, you are better off contacting us at A Step Above Plumbing to take care of the job for you.
You would be surprised at how well you can handle some of the small plumbing jobs, such as a minor clogged drain, on your own. When you have a job you can't handle, though, our team at A Step Above Plumbing is here for you. We can handle jobs of various sizes, so give us a call when you need help with your plumbing.