Whenever there is a plumbing problem at your home, your first thought is likely whether it's an emergency or if it can wait. The second thought is probably to ask yourself whether you can fix it yourself or if you need to call in a plumber.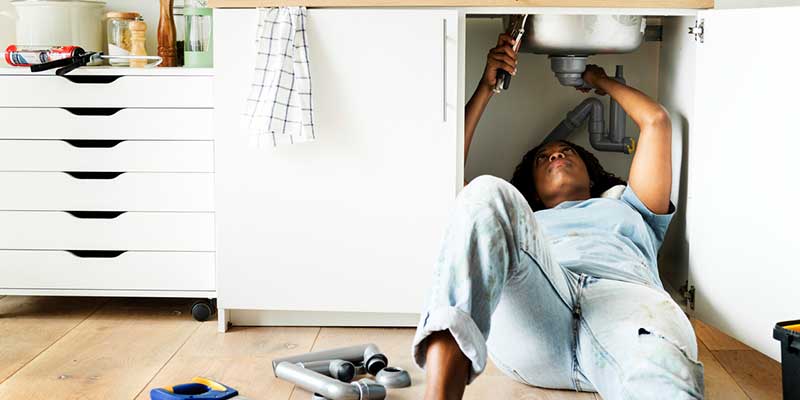 The good news is that small plumbing repair jobs are ok to do independently. Even if you aren't the handiest person, there may be easy fixes to a plumbing issue that don't require an immediate call to the plumber for assistance.
Plumbing Repair On Your Own
Running Toilet – A running toilet can be one of the most frustrating plumbing problems. Not only is the noise bothersome, but there could be gallons of water wasted as well. Determining why a toilet is running usually involves taking the tank cover off and giving it a look. If it's part of the toilet flushing system inside the tank, you may be able to apply a quick fix.
Dripping Faucet – Dripping faucets are another nuisance that can waste water and be noisy. There are several reasons a dripping faucet can occur, but most of the time, it's because a seal isn't working correctly. A local hardware store often carries kits to help with this plumbing repair.
Clogged Drain – If a clogged drain is a cause for concern, you can take action by applying safe and effective plumbing repair solutions. It's essential to assess whether the clog allows any water to move or if the drain is completely blocked. Then you'll know whether to approach the issue from above or below the drain.
When to Call a Plumber
Broken Plumbing – If you have a plumbing repair that includes something broken, such as a broken pipe, calling in a plumber is likely your best choice. They will know how to mitigate the broken plumbing and provide long-term solutions.
Leaking Water – If you have water leaking from an area where it shouldn't be, definitely call a plumber! Whether it's under the sink, in the bathtub, or somewhere else, you should never wait to call for emergency plumbing services in this situation.
Plumbing Replacement – If it's time to replace any of your major appliances, such as your water heater, a professional installation is always going to be better. This way, you can dispose of old equipment and know that your new equipment is installed properly.
At A Step Above Plumbing Inc., we provide residential and commercial plumbing repair services. Contact us today!