Imagine this: you come home and find yourself looking at a puddle of water surrounding your water heater or see a stream of liquid running down the side of the tank. What do you do?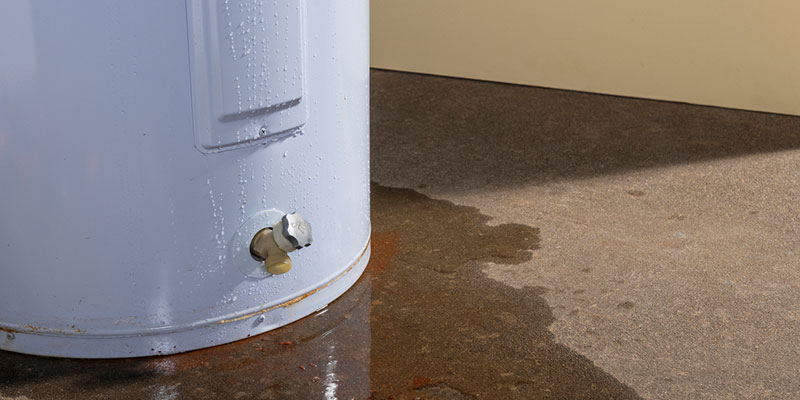 Assess the amount and location of the water. Take note of where you notice water and how quickly it is escaping. This will help you determine the order and urgency of your next two steps. If it is difficult to find where the water is originating from, it may be a good idea to leave the water on until that location can be determined.
Turn off your water. Shutting off the water will slow the leak down until it can be fixed; it will also protect you from the hot water exiting the tank. To turn off the water, find the lever or knob located on the pipe leading into the top of the water heater. Turning the knob clockwise or pulling the lever down will shut off the water. If safety is a concern, you can also turn off the water using your main water shut-off valve.
Turn off the main power supply. If you have an electric water heater, you can shut off the power supply to your water heater by flipping its switch found in the main circuit breaker panel. If you have a natural gas water heater, there is a knob at the bottom of the tank– turn this knob to the "off" position. Electricity and a leaky water heater are never a good mix.
Call a professional. The most important step you can take is to call a professional plumber to examine your leaky water heater. Unfortunately, this is a problem that will not go away on its own. In fact, it will only get worse. So no matter the size or location of the leak, it is important to have a professional inspect your water heater and make the needed repairs.
If you have a leaky water heater, don't hesitate to give us a call. At A Step Above Plumbing Inc., we can diagnose the problem quickly, find a solution, and prevent future problems.