At A Step Above Plumbing Inc., we realize that most people are uncomfortable with the idea of handling their own residential plumbing concerns. The reality is that, although there are many small jobs you can safely and efficiently handle on your own, it is best to call on us for the big stuff. Since 2003, we have been providing a wide variety of residential plumbing services in a reliable, professional, and efficient manner. Here are a few of the talents that we have used to perform jobs countless times:
Water Heater Repair- Other than a water heater tank that can no longer hold water, many other issues can be resolved, often with an affordable repair rather than the expense of replacing the water heater.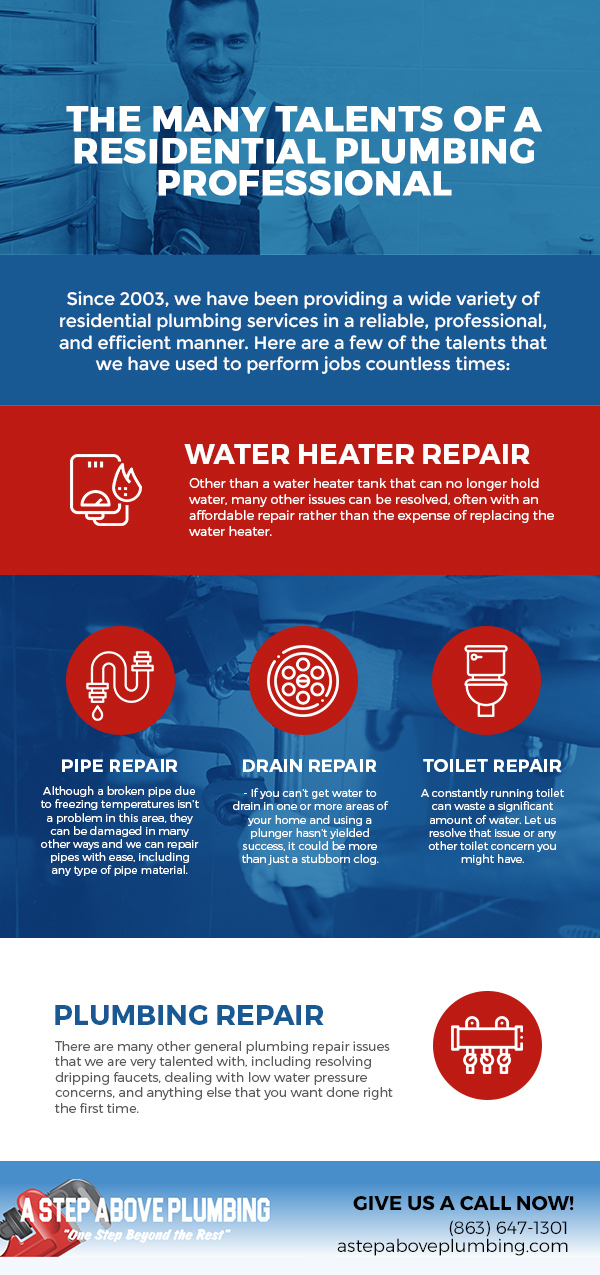 Pipe Repair- Although a broken pipe due to freezing temperatures isn't a problem in this area, they can be damaged in many other ways and we can repair pipes with ease, including any type of pipe material.
Drain Repair– If you can't get water to drain in one or more areas of your home and using a plunger hasn't yielded success, it could be more than just a stubborn clog.
Toilet Repair– A constantly running toilet can waste a significant amount of water. Let us resolve that issue or any other toilet concern you might have.
Plumbing Repair– There are many other general plumbing repair issues that we are very talented with, including resolving dripping faucets, dealing with low water pressure concerns, and anything else that you want done right the first time.