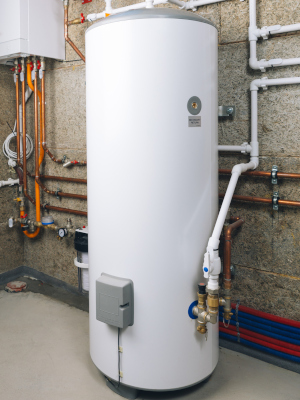 With commercial water heater installation, you will have to consider the unit's size, reliability, and price. Energy efficiency is an important factor, too, since larger buildings generally use more hot water than smaller homes. The units alone can average around $1,000 or more, and you can expect to spend more for professional commercial water heater installation. If you choose a quality water heater, hire a reputable commercial plumber for installation, and keep the unit maintained, it should last for about 20 years.
About Commercial Water Heaters
Commercial water heaters get more on-demand use than residential ones. They also get hotter, so for safety reasons, they are not usually installed in private homes. These larger water heaters hold up to up to 250 gallons of hot water and support as much as 1 million BTUs, so the electricity grid that they work with must be able to accommodate them.
Choosing the Right Water Heater
When considering water heaters, you'll need to think about the type of business you have and how much water you'll use each day. A commercial water heater sizing calculator can help with this.
How Long Does the Installation Take?
Once the water heater is delivered, the old one will be disconnected and removed. A licensed plumber should manage a commercial water heater installation, and it's a good idea to have it done when there is no one in the office. The new water heater will be connected to the power (or fuel) source, with the proper safety precautions being taken every step of the way. Once the water heater is connected, your plumber will perform some tests and adjust the settings. It should take about two to three hours.
We have three state master licenses in our company and do work for large contractors all over the U.S. Call today for more information on commercial water heater installation.