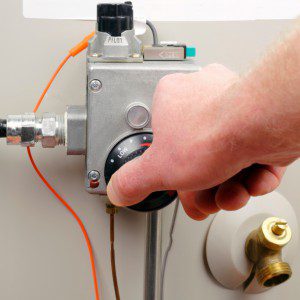 There are some types of water heater repair or other plumbing issues that are simple and can be done on your own, but there are also some types of repairs that are best left up to a professional plumber. Here are the most common types of water heater repair and the protocols for each one.
Water temperature is either too hot or too cold– This does not necessarily mean that you are in need of water heater repair. The first thing to try is adjusting the thermostat of your water heater. If you have a dishwasher, set it to 150° Fahrenheit and a little lower if you do not have one. If this still does not work, then the thermostat or sensor likely needs to be replaced.
Loud noises coming from your water heater– This means that there is likely sediment that has built up on the bottom of your water heater tank. To prevent sediment buildup, you should flush your tank every six to twelve months.
Leaky water heater- If your water heater is leaking, it will typically need to be replaced. It is dangerous if your water heater is leaking, so you will need to call a professional plumber to remove it right away.
Smell of gas- If you have a gas water heater and smell gas, you need to leave the house immediately and call a professional plumber.
At A Step Above Plumbing in Lithia, Florida, we are equipped to help you with any these water heater repairs and problems. Give us a call with any of your water heater repair questions!