We provide leaky water heater repair and replacement services.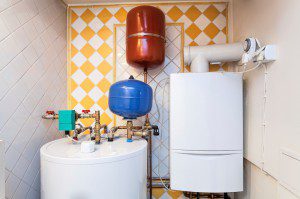 A water heater is a must-have in every home, as it ensures that you have hot water when you take a shower, wash your hands, or prepare food. But when yours stops working, the water coming through your faucets may feel ice cold. One of the biggest concerns associated with a broken water heater is the risk of leaks, which can happen if the pressure relief valve goes out or the tank gets damaged. Water damage can be substantial and spread quickly, so it's important to address the problem before it takes over your home. When moisture is present, the risk of mold growth also goes up, so you don't want to ignore a leaky water heater.
One of the key signs of a leaky water heater is water on the floor around the unit. But in many homes, the water heater is in a place where people don't spend much time, such as a dedicated room or basement. So, this warning sign may not be as apparent as others, such as a change in water pressure coming through your faucets or an increase in the time it takes to heat up the water. You could even notice that your hot water seems to run out faster than usual.
If you notice any of these problems at your home, check the water heater to see if it's leaking. If so, contact us at A Step Above Plumbing Inc. to take care of the issue. We provide leaky water heater repair and replacement services, and we're available to clients throughout Central Florida.
---
At A Step Above Plumbing Inc., we fix leaky water heaters in Lake Wales, Winter Haven, Riverview, Tampa, Brandon, Fish Hawk, Lakeland, Lithia, and Plant City, Florida and throughout Central Florida, as well as all other areas of Polk County and Hillsborough County.