A leaky water heater at your Plant City home isn't something you should ignore – call us for repair or replacement as soon as possible.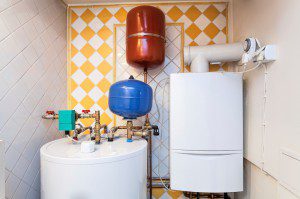 There are probably a dozen plumbing issues around your Plant City, Florida home that you are comfortable taking care of yourself. While it is easy enough to clear hair out of a drain, replace a washer or handle on a faucet, or use a plunger on a clogged toilet, if you have a leaky water heater, you should probably call in a professional. Here at A Step Above Plumbing Inc., we offer honest and reliable diagnostics on water heaters to give you the best solution if yours has sprung a leak.
In some cases, the water you're seeing could be just a connection that needs to be tightened or a part that needs to be replaced. However, if it is actually a leaky water heater tank, you will probably need a new water heater. We always keep your best interests in mind when recommending either repair or replacement after carefully assessing the situation. Even if your water heater can be repaired, it isn't always cost effective to do so. We make sure you have all the information you need, so you can make this decision based on the facts.
You should never ignore a leaky water heater, as this is definitely a sign that a flood could be imminent. You could run the risk of major water damage to your home if you wait. Furthermore, even the small leak is causing problems that could lead to mold and/or an insect infestation. We offer appointments throughout the week and on weekends to accommodate your busy schedule. Call us today with any questions you may have or to arrange a visit to check out your leaky water heater or other plumbing concerns.
---
Leaky Water Heater in FishHawk, FL
Leaky Water Heater in Lakeland, FL
Leaky Water Heater
Leaky Water Heater in Central Florida