We have over 10 years of experience with pipe repairs in the FishHawk, FL area.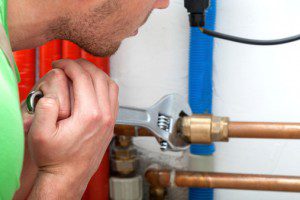 If you have pipes that are leaking and need repairs, call us at A Step Above Plumbing Inc. as soon as you notice an issue.  Delaying pipe repair can cause damages that are costly to fix.  If a pipe is leaking in the walls, it can cause damage to the walls, floors, or ceiling.  In addition, it only takes a few days for mold to grow where there's moisture and your family may start to suffer from mold-related illness.
Since most pipes are hidden behind walls, it can be difficult to notice if you need a pipe repair.  If mold has started to grow, then one way to tell is by the presence of mold-related illness symptoms.  If anyone in your family starts to exhibit allergy-like symptoms out of the blue, start looking for mold.  Another way to tell is by looking at your water meter.  If you check it once, don't use water for a few hours and check it again, the number should be the same.  If it increases, you could have a pipe leaking somewhere.  Lastly, check your water bill.  If you have a leaky pipe, your water bill is bound to increase inexplicably.
Upon noticing any of these signs in your FishHawk, FL home, give our professionals a call.  We have over 10 years of experience with pipe repairs, and since we can make appointments on the weekends, we are sure to find a time that works around your busy schedule.
---
Pipe Repair
Pipe Repair in Lakeland, FL
Pipe Repair in Plant City, FL
Pipe Repair in Central Florida