Our residential plumbing team has been working to repair drains, faucets, pipes, and toilets throughout the Lithia, FL area since 2003.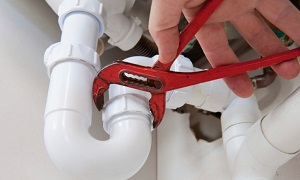 There are a number of reasons why you might need to hire an expert to help with residential plumbing. You might have slow-draining sinks, a clogged toilet, a cracked pipe, or another plumbing problem. At A Step Above Plumbing Inc., we offer residential plumbing services to repair any and all of these problems. Our service area includes homes within Lithia, Florida, as well as some of the surrounding cities. If you do notice that your sinks are slow to drain, you might be tempted to use household drain cleaning products. However, these contain harsh chemicals that can cause damage to the pipes over time. We recommend using hot water and vinegar to try to flush the clogs.
Another common reason for calling a plumber is if you have a leaky faucet. This problem can waste over 34 gallons per year, which is a waste of a valuable resource and an expensive problem for you. You may want to try to fix a leaky faucet by checking screws and hardware for signs of damage and watching for holes around the faucet that might be causing the leak.
We are Committed To Completing Every Plumbing Job with the Highest Quality
How to Save Money on Residential Plumbing Services
Who would have thought that a residential plumbing company could be your source for information to save on paying them? Believe it or not, here at A Step Above Plumbing Inc. we don't want to come to your Lithia, Florida home to resolve things you could do yourself. We won't use fear tactics to keep you paralyzed so you won't even pick up a plunger. The reality is that there are many DIY solutions for residential plumbing issues and many of them work quite well.
We are happy to advise you if you have watched a video and wonder if it is a true solution or sheer foolishness as the last thing we want is for your minor residential plumbing invoice to become a huge one because the so-called solution only made things worse. Don't worry if you are feeling apprehensive and would still prefer to call us to resolve anything from a minor to a major residential plumbing concern as our focus is on your satisfaction from start to completion.
We do strongly advise that you contact us for the big stuff – sewage backups, burst pipes, water heater repair or installation, or a clogged drain that doesn't clear when plunged. Most DIY techniques for these are far from safe or effective and can end up costing you money in the long run. Another tip for saving money on residential plumbing services is to take care of multiple issues in one service call. If your water heater is giving you trouble, but you also know your toilet is leaking, be sure to mention both so we can take care of them together. A residential plumbing professional dedicated to saving you money? Who knew!
An Expert Residential Plumber Can Help with Many Problems
Our residential plumbing team has been working to repair drains, faucets, pipes, and toilets throughout the Lithia area since 2003. We have plumbing contractors who work on large-scale and small-scale projects every day, so we can take on any plumbing issue you may encounter. For example, when you have a backed-up sewer line, it can be dangerous, since sewer water can be contaminated. Instead of taking on these bigger issues yourself, call our team to solve the problems for you.
Contact us today for more information.
---
Residential Plumbing in FishHawk, FL
Residential Plumbing in Lakeland, FL
Residential Plumbing in Plant City, FL
Residential Plumbing in Central Florida
Residential Plumbing, Brandon, FL
Great service, very reliable, and a great company!!
"Highly recommend A Step Above Plumbing. Great service, very reliable, and a great company!! Thanks for always helping with our plumbing needs! "
★★★★★ Alison O.
Similar Services We Offer: