When you use the services of our plumbing contractors in Lithia, FL, you can feel confident that they know what they are doing.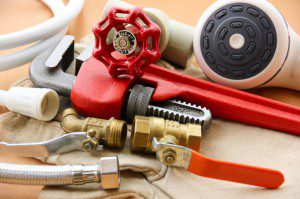 Most of us don't think too much about our plumbing, until we experience a problem with a clogged drain or leaking pipe. If you are having a problem like this with your pipes, the best option is to give us a call at A Step Above Plumbing as soon as you can. Water can cause significant damage to your property, including adding the potential for mold to grow and cause allergic reactions. For these reasons, it is smart to call us as soon as you notice a problem with your plumbing, instead of waiting to see if it resolves itself. There are some smaller problems that you might be able to fix yourself, but for a leak or other big issue, it can save you time and money to call us first.
Our team of experienced plumbing contractors can diagnose and fix problems quickly and efficiently. We have been serving clients in Lithia, Florida for over a decade, and our company owners have strong backgrounds in the plumbing industry. When you use the services of our plumbing contractors, you can feel confident that they know what they are doing and know how to fix your plumbing issues. We offer both residential and commercial plumbing services to those in the Lithia area.
When Should You Call a Plumbing Contractor?
A plumbing contractor is an invaluable resource for all your plumbing needs! Whether you are a homeowner or a business owner, having a reputable plumbing contractor you can rely on for your plumbing projects, repairs, and maintenance is essential. Here at A Step Above Plumbing Inc., we want to help you with your plumbing needs. Some of our clients wonder about when they should call a plumbing contractor, and here are a few instances in which you should consider picking up the phone:
When you have major construction or remodeling work. Remodeling work and renovations, especially those types of projects that involve moving any plumbing fixtures, should be done by an experienced plumbing contractor. A plumbing contractor can ensure that the job is done up to code and properly, ensuring that your investment won't be ruined by faulty plumbing.
If you need work done on your sewage system. Sewage systems and lines are important and essential to your home. Work on the major sewage lines of your home need to be done by professionals, since incorrect work will impact more than just your plumbing, but also your groundwater and potentially city water.
Any time your work needs a permit. If your work needs a permit, a plumbing contractor can ensure that the work is properly permitted as well as assist you with the completion of the tasks.
When there is new construction. If you are building a home, addition or making major changes, then you need the experience and know-how of a plumbing contractor.
If you are thinking of hiring a plumbing contractor, we can help. For questions or to schedule an appointment with us, please give us a call today.
Our plumbing contractors take great pride in their work. When we schedule an appointment, we will show up on time and make sure the job is done correctly the first time. If you have any questions or concerns about our services, feel free to contact our office.
---
At A Step Above Plumbing Inc., our plumbing contractors serve customers in Lake Wales, Winter Haven, Riverview, Tampa, Brandon, Fish Hawk, Lakeland, Lithia, and Plant City, Florida and throughout Central Florida, as well as all other areas of Polk County and Hillsborough County.