We offer water heater repair services in and near Lithia, FL.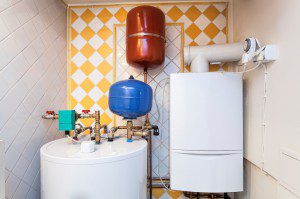 One of the most frustrating things that can happen to you as a homeowner is when you turn on the shower or faucet to the hot setting, and only cold water comes out. You can test a few other faucets in your home to make sure that you aren't dealing with a broken fixture, but if the water throughout the home is cold, you may have a broken water heater on your hands. Another sign of the water heater going bad is a rotten egg smell that comes from the tank. This odor typically means that the aluminum rod in your gas water heater is no longer working. If the water pressure is weaker than it used to be; the water takes a lot longer to heat up; or the pressure will suddenly shift, causing the water to sputter or spurt out, these are also signs of a broken water heater.
At A Step Above Plumbing, we offer water heater repair services in and near Lithia, Florida. We understand that water heater repair can be a more economical alternative to replacing the unit altogether, so if a repair is reasonable, we will certainly offer that. In some cases, repair will be more expensive than an actual replacement, so we will talk to you about that option, as well, when we come in for the assessment.
If you have questions about water heater repair options and other plumbing issues you may have in your home, give our team a call. We offer appointments throughout the week and on weekends to accommodate your busy schedule.
---
Water Heater Repair in FishHawk, FL
Water Heater Repair in Lakeland, FL
Water Heater Repair in Plant City, FL
Water Heater Repair in Central Florida